Monsanto Are The Lungs Of Lisbon, here are Activities In Portugal's 10 Things To Do In Monsanto.
Monsanto Forest Park 
is known as the lungs of Lisbon and for very good reason. It is the largest green area in the city and with over fifty hectares of forest, it is one of the largest urban forests in Europe.
In the 19th century the Monsanto park was filled with fields, both for growing crops and used as feeding grounds for cattle. There were also quarries from which the stones necessary for the construction of the city were extracted.
Vegetation was becoming scarce in Lisbon, so around a hundred years ago it was decided to reforest the area and a large number of fast growing tree species were introduced. Due to climate and geological characteristics, they created a very interesting ecosystems in the urban patch of Lisbon and with so much more to offer than just a walk or run through the forest.
Monsanto is just a short bus journey from central Lisbon. Catch the bus 711 departing from Rossio square. This green space is a most for anyone looking to escape the busy city for a the day. Come and enjoy the fresh air 10 things to do in Monsanto.

Hidden a short walk from the main road, close to the military grounds, is the astonishing Panorâmico de Monsanto. A must see if you are visiting the park! This impressive building was once a upmarket restaurant that after some bad business decisions was shut down. In 2001 it became completely abandoned and now it is once again open to the public to explore. The space provides some absolutely breathtaking views over Lisbon and the river and some fantastic graffiti pieces spread from floor to ceiling. This unique building has a ghost like beauty and it is well worth a visit. One thing to keep in mind whilst visiting the old restaurant though. It is illegal to take photos of the army base located next to it. But to be fair, why would you want to take pictures of an old army base when if you just turn around have some of the best views over all of the city and river?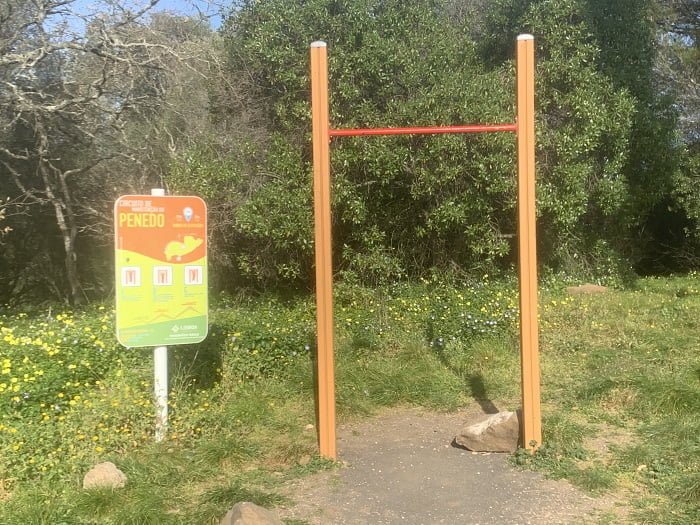 All around Monsanto you can find the extensive exercise circuit. Situated about 20 meters away from each other, all over the park exercisers can stop for pull ups, sit ups, improve balance skill and much more. The "stops" cater for beginners and those more advanced. No excuse not to enjoy the free circuit whilst surrounded by fresh clear air. Did you know! In 1959 the Portuguese Grand Prix Formula One event was held in the Monsanto park on the 5.44 km "Circuito de Monsanto" or Monsanto park circuit. As the track was build in the parkland with many different terrains and surfaces, crossing both roads and tram lines, it was considered to difficult to drive. The track hosted smaller races between 1954 and 1959 but it was shortly closed after the big Grand Prix event.

There are three basketball courts that are totally free to the public, just grab your mates, turn up, baggy your court and start playing basketball. All the while still enjoying the panoramic view of the Monsanto Park going down to the Tagus River through the viewpoint. No worries if you are hot and sweaty Monsanto even has outdoor showers!
Monsanto skatepark was designed by Francisco Lopez and built in 2018. Prior to 2018 there existed another park but it was old and rotten by 2017 so the council decided to replace it. The skatepark is divided into three levels. The park is very popular with experienced skaters that can skate the street obstacles and the bowl. It is also very popular with kids and beginners who enjoy the space just as much as the experienced!

Next on our list of 10 Things To Do In Monsanto is number 5.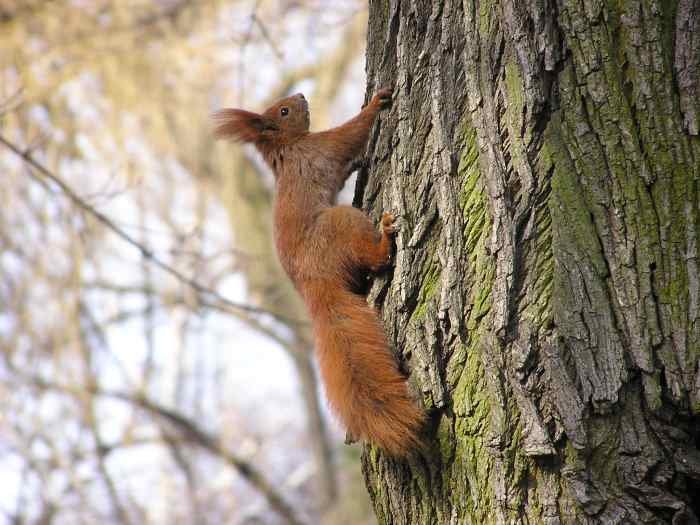 For the nature lovers, if you are lucky, it is possible to spot a red squirrel in the forest. The species completely went extinct in the whole of Portugal during the shipbuilding period, in the 16th century. It is pretty incredible that they have now found its way back to the park hundreds of years later. We love seeing the scampey little fellas around, they are so cute. Monsanto is also a great place for bird watching.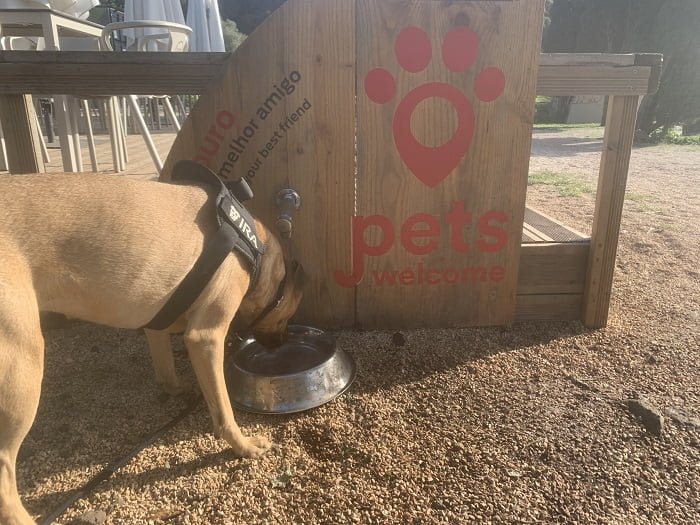 Monsanto is the perfect location to bring your four legged best friend to enjoy huge space and forest in Lisbon. Monsanto has a closed dog park where your best mate can play with other dogs. There are dog water bowls available to quench the thirst of your best friend, especially useful in the summer months. The forest is full of smells and sounds to make this walkies one of your dogs favourite locations in Lisbon. The only issue, is during the months of February through to April it is possible to find the pine tree processionary caterpillar which is lethal to dogs. Keep your eyes peeled during these months and it is advised to keep dogs on lead during these months for their safety.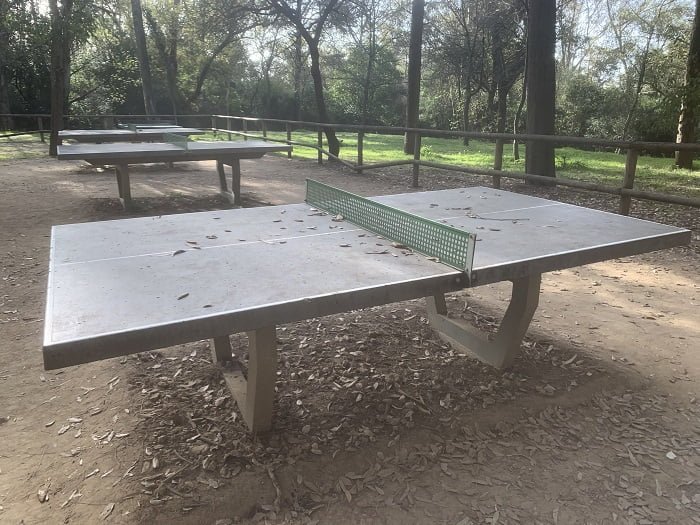 Ping Pong is also free to use in Monsanto. The tables are located next to the picnic, dog park and toilets. Bring your own rackets and balls to enjoy a game.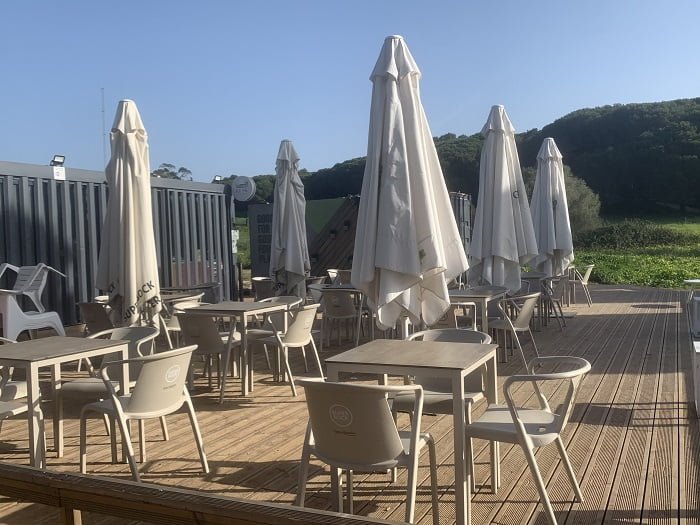 With all the free sports on offer, no doubt you will want to relax after an afternoon of exertion. Grab a bite to eat or a drink at the Kiosk Keil do Amaral. There are also many restaurants located in the grounds of Monsanto if you are looking for something more sophisticated.

Monsanto is almost chock-a-block with picnic areas. All around the forest you will find picnic tables but beware, you will need to arrive early to get the best tables. They are more valuable than gold in the summer months. Picnicking is a favourite Lisboetas past time. During spring and summer Monsanto is full of locals celebrating birthdays or just enjoying a wonderful afternoon in the shade of the Monsanto forest.
Off Track Cycling In Monsanto there are two dirt bike race tracks. There is also a dedicated area for BMXs where you can show off your jumps and speed over the ramps. For the more dedicated bike rider, you can take your bike in the forest trails with different levels of difficulty for all types of riders. After a dirty afternoon you can even wash your bike at the bicycle washer, located near the café above.
Thanks for reading 10 Things To Do In Monsanto. There are so many other things that you can do in Monsanto, what is your favourite?
Book your Lisbon Activities with
 Activities in Portugal
.