You may be in Lisbon but you cannot miss THAT match! Well Activities in Portugal have go you covered, below are 8 Sport Bars Lisbon.


RUA DO ALECRIM 21A, LISBON

This hidden gem opened its doors in 2017 and has since become a big favorite for sports fans both visiting or living in Lisbon. With its 30 screens and over 3000 channels to choose from, from all around the world. No game is to be missed, whatever sport or team it is you wish to watch, the staff can help find it for you. The food menu is relatively simple but nonetheless effective , with a good variation of Portuguese and English traditional "pub grub" food to a very acceptable price and drinks for all tastes it is a winner for all sport fans.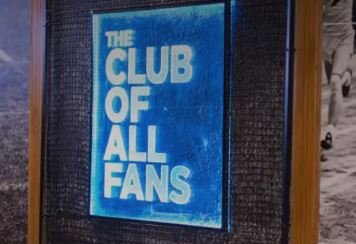 R. São Sebastião da Pedreira,

Doesn't the name say it all? This sports bar located in the Real Parque Hotel has 3 flat screen tvs plus one big projector screen to accommodate for multiple games at once. It serves both a light tapas menu and some loved pub grub dishes. And it has variation of  beers, wines, spirits and soft drinks to suit everyone's taste.

What is your favourite Sport Bars Lisbon?

RUA DO NORTE 86, Lisbon.

A lively and we met people from all over the world. It's the kind of place you'll befriend everyone from the bar to the end. Interesting drinks, friendly staff and good music.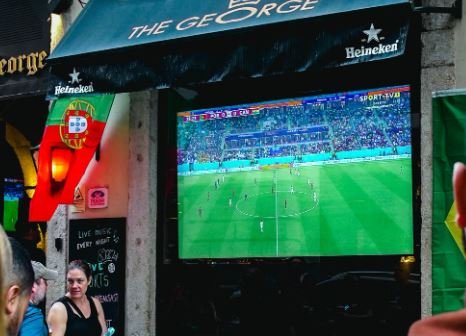 Rua do Crucifixo 58

This traditional English pub is located in one of Lisbon's best know pub areas and offers multiple screens, a brilliant atmosphere,  good food and a cold crisp pint, what else could you possibly want whiles watching your favorite game?

Next is number 5 on our list of Top Sport Bars Lisbon.

Av. Duque de Loulé 49

A sports bar where you can eat, drink and socialize while watching your favorite sports. With five 140cm screens in a cozy space, with litres of the best beers from Portugal and the World. If you want to watch the Champions League, Europa League, Portuguese Premier League, NBA, American Football and much more, this is the place!

Rua do Comercio 54

This trendy modern bar is located inside Cristiano Ronaldo's Lisbon hotel. CR7 Corner Bar & Bistrô is a good option for game days with multiple screens. The prices is a little more expensive than your average pub but food is good and well prepared and the cocktail menu is worth a try rather than a normal pint.
Rua Silva Carvalho N. 85

This little pub opened its doors 11 years ago and is since known for its friendliness and of course, football. The pub is on the smaller side but if you find it to crammed you can find their sister pub Mignon sports bar just a few doors up on the same street. The sports bar has 3 screens always showing different sport programs, a finger food menu with great quality food and a great selection of  craft beers.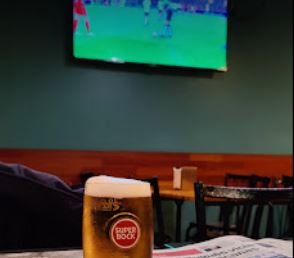 Rua Manuel Ferreira de Andrade 2

This bar offers pool tables, dart boards and some nights karaoke as well as shows your favorite game on flat screen tv and serve some basic food such as sandwiches and toasties. its well priced and good atmosphere, small outside seating for warm evenings.