10 Things To Do In Lisbon On A Rainy Day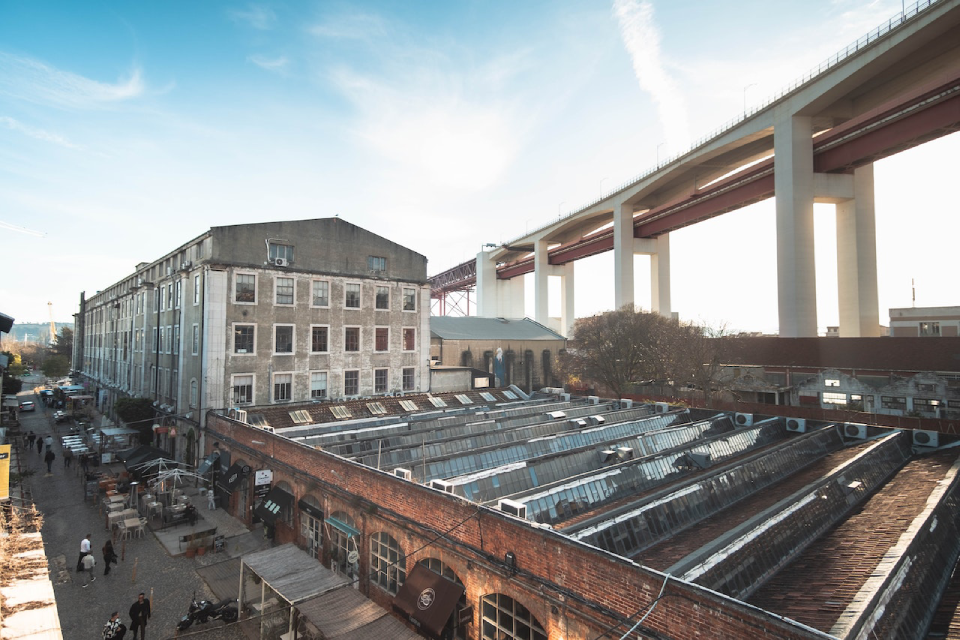 Luckily these are relatively rare but it doesn't mean it never rains in Portugal.  If you are unfortunate enough to come during the rain you can still make your visit to Lisbon amazing, here are a few suggestions on what to do in Lisbon on a rainy day.

1, The Timeout Market
For the foodies, here you can find food from most parts of the world, all under one roof.
The building it self is worth a walk through even if you have already eaten, the atmosphere is buzzing and it has quickly become a landmark in Lisbon.
Be sure to check it out.
2, The Oceanário de Lisboa
This amazing aquarium features both an ongoing and a temporary exhibition, currently being the Forests Underwater.
This will definitely be a hit with the little ones but also the adults will enjoy this beautiful underwater world. From penguins to sharks the oceanário will surprise you with the delights and mysteries of the sea.
3, The LX Factory
This is both an outdoor and indoor commercial and entertaining area but there are so many things to see inside, we promise no umbrellas needed!

Visit the massive library with the original fabric press reminding you of the industrial history of the area.  Grab a coffee and cake in the trendy coffee shops, browse the cute one of a kinds shops selling hand made Portuguese goods or just grab a "imperial" – half a lager in one of the many quirky bars. Kill a few hours waiting for the rain will settle, and if you do venture outside make sure to have a look at all the amazing street art displayed throughout the venue.
What to do in Lisbon on a rainy day?
4, Escape Room
Escape Rooms now exist in most bigger city's in the world but all with a providing a different twist. The Escape Room is a perfect way to keep yourself and your group occupied and dry, until the rain stops.
Can you find all the clues and escape in time?
5, Trampoline Park
For those who have a lot of energy to dispose, this is for you.
This massive warehouse has been turned to any bouncers dream, with a wide range of activities such as basketball hoops to slam dunk and bouncy football I can ensure you that both kids and adults will jump of joy.
6, Berardo Collection Museum
The Berardo Collection Museum in Lisbon, houses one of the world's most extensive modern and contemporary art collections. It was founded in 2007 by Portuguese billionaire Joe Berardo, who donated his collection to the museum. The collection features works by renowned artists such as Pablo Picasso, Salvador Dalí, Joan Miró, and Andy Warhol. Its definitely worth a visit.
7, Calouste Gulbenkian Museum
The Calouste Gulbenkian Museum was opened in 1969. It was founded by Calouste Sarkis Gulbenkian, a businessman and art collector who also bequeathed his vast collection to the museum upon his death in 1955. The museum features a diverse range of art, including ancient Egyptian artefacts, Islamic art, European paintings, and decorative arts from the Far East. It also has a beautiful garden to wander around but not ideal on a rainy day.
8, Lisbon Cathedral
The Santa Maria Maior de Lisboa or the Sé de Lisboa, is a Roman Catholic church located in Alfama. It is the oldest church in the city, dating back to the 12th century, and was built on the site of a former mosque. The cathedral features a mix of architectural styles, including Romanesque, Gothic, and Baroque, and is known for its impressive rose window, chapels, and cloister. It is a beauty to see!
9, Centro Colombo Shopping Mall
The shopping centre opened in 1997 and has over 400 stores, restaurants, and entertainment venues spread over six floors. The centre is a popular destination for locals and tourists alike, offering a wide range of products and services, including fashion, electronics, cinema, and food. You can walk in here for hours with a drop of water touching your skin. 
10, Hub Criativo do Beato
Visit the Hub Criativo do Beato. It is a former industrial complex that has been renovated and repurposed to provide space for artists, designers, entrepreneurs, and startups. The hub features a range of facilities, including co-working spaces, studios, event venues, and workshops, and is known for its vibrant and innovative community.
If the rain continues you could always sing your own rain song.
Rain, rain, go away
Come again some other day We want to go outside and play Come again some other day
Rain, rain, go away
Come again some other day We want to go outside and play Come again some other day
Rain, rain, go away
Come again some other day We want to go outside and play Come again some other day