The Miradoura De Santa Catarina is a meeting spot for Lisbon young and the young at heart. The terrace boasts stunning views of the 25th April bridge and the river Tagus.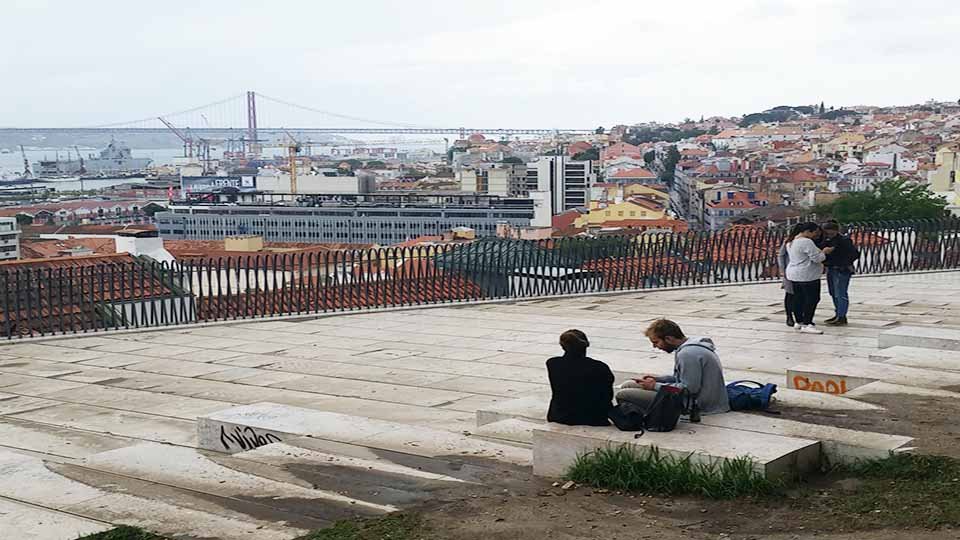 On a hot and sunny afternoon the miradoura is full of locals chilling and relaxing in good company and to have good times until sunset. Join the locals and grab a coffee at the cafe or relax on the grass appreciating the amazing view, more often than not a the sound of live music will drift in the air adding to the ambient atmosphere.
Watching all of the action is the Adamastor, sculpted out of rock is the poet Luís de Camões. The true name of the is Miradoura De Santa Catarina however it is also known as Miradouro do Adamastor too.
Surrounding the miradoura is Noobai, this is a cute open air restaurant/cafe offering lunch and dinner with fantastic vegetarian options. Noobai also benefits from the amazing views of river Tagus, sit eat or drink chilling in style.
Above the miradoura is Pharmacia, a restaurant inspired by the pharmacies of the 1950s. Enjoy a Portuguese tapas menu receiving food and drinks in unusual pharmaceutical items. The restaurant also includes a cocktail bar and grass terrace where you should spend the afternoon sipping your cocktail from a test tube and feeling the laid back Lisbon vibe.