Albufeira is a beautiful coastal town in the southern region of Portugal, known for its stunning beaches, vibrant nightlife, and rich cultural heritage. It is a popular tourist destination that offers plenty of activities to visitors. Here are 10 things to do in Albufeira that you won't want to miss.

Explore the Old Town
Albufeira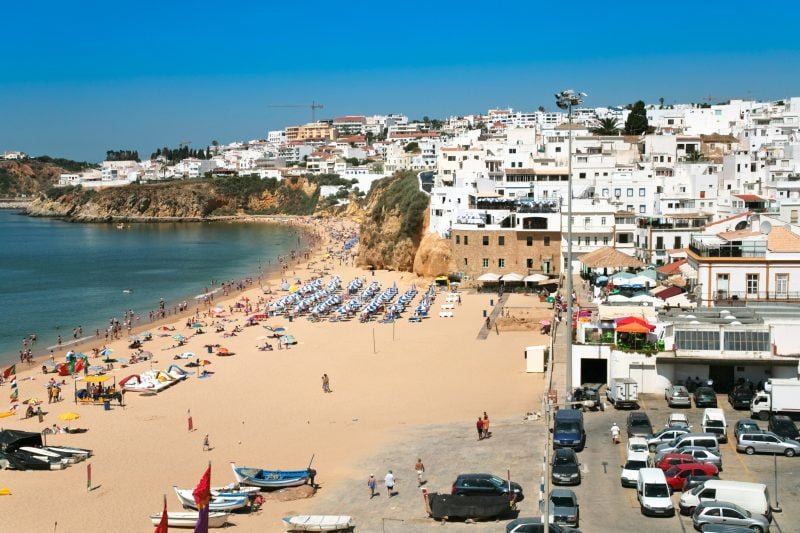 The Old Town of Albufeira is a charming and picturesque area that offers a glimpse into the town's rich history. It features narrow streets, whitewashed buildings, and traditional architecture. Take a stroll through the Old Town and enjoy the vibrant atmosphere, as well as the numerous shops, cafes, and restaurants.
Visit the Beaches
Albufeira

Albufeira is known for its stunning beaches, and there are plenty to choose from. Some of the most popular include Praia da Rocha Baixinha, Praia dos Pescadores, and Praia do Inatel. Spend a day lounging on the beach, soaking up the sun, and swimming in the crystal-clear waters.

Go on a Boat Tour
Albufeira
Explore the stunning coastline of Albufeira on a boat tour. You'll have the opportunity to see the rock formations and caves up close, and even swim in the crystal-clear waters. Boat tours are available at various times throughout the day, and there are several operators to choose from.
Take a Jeep Safari
Albufeira
For a more adventurous day out, consider taking a Jeep safari through the countryside around Albufeira. You'll get to see the stunning natural scenery, including mountains, forests, and rivers. Jeep safaris are typically half-day or full-day tours, and they can be booked through various operators in town.
Zoomarine is a popular theme park located just outside Albufeira. It features a variety of marine life exhibits, as well as water rides, a 4D cinema, and a mini-golf course. Kids will love the chance to see dolphins and sea lions up close, while adults can enjoy the thrilling rides and shows.
Visit the Municipal Museum
Albufeira
The Municipal Museum of Albufeira is located in the heart of the Old Town and is a great place to learn about the town's history and culture. The museum features exhibits on everything from Roman ruins to traditional crafts, and it is well worth a visit.
Experience the Nightlife
Albufeira
Albufeira is known for its vibrant nightlife, with a wide range of bars, clubs, and restaurants to choose from. Whether you're looking for a relaxing drink in a beachfront bar or a night of dancing in a club, there's something for everyone in Albufeira.
Albufeira is home to several world-class golf courses, including the Pine Cliffs Golf Course and the Salgados Golf Course. Spend a day on the greens and enjoy the stunning views of the coast and countryside.
Explore the Marina
Albufeira

The Marina of Albufeira is a bustling area filled with restaurants, bars, and shops. Take a stroll along the waterfront and enjoy the stunning views of the yachts and boats in the harbor. You can also book various water sports activities from the marina, including jet skiing, parasailing, and scuba diving.


The Algarve region is known for its excellent wines, and there are several wineries in the area that offer wine tastings and tours. Take a day trip to a nearby winery and sample some of the region's best wines.

In conclusion, Albufeira is a beautiful town with plenty of activities to offer visitors.

Whether you're looking for a relaxing day on the beach or an adventurous Jeep safari, there's something for everyone in Albufeira.