Activities In Portugal's 6 Things To Do In Aveiro.

Aveiro is 40 minutes south of Porto and is the most colourful district in Portugal. Built on numerous canals Aveiro is known as the Venice of Portugal. The city was built around salt production and you can still visit the salt ponds that remain.

Below are 10 Things To Do In Aveiro when you visit this pretty city.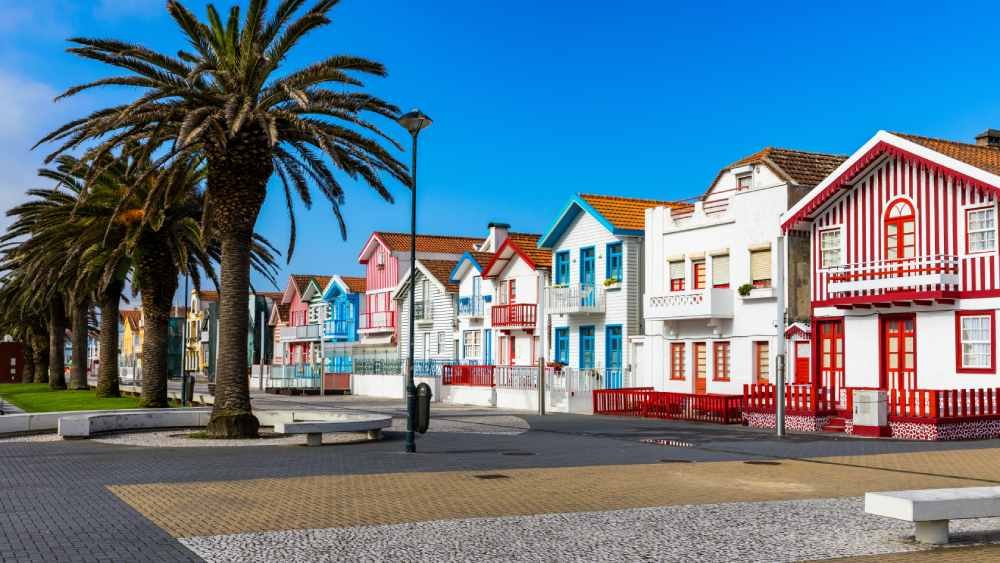 Costa Nova is the prettiest seaside village in the whole of Portugal. The area is famous for its colourful facades of the seaside house. In past local fishermen built haystacks, storages and shelters with horizontal outside planks that were painted in bright welcoming colours of the sea. Over the years the spaces were converted into housing and todays cute village was formed. The area is now a hotspot with tourists takings pictures outside the colourful architecture.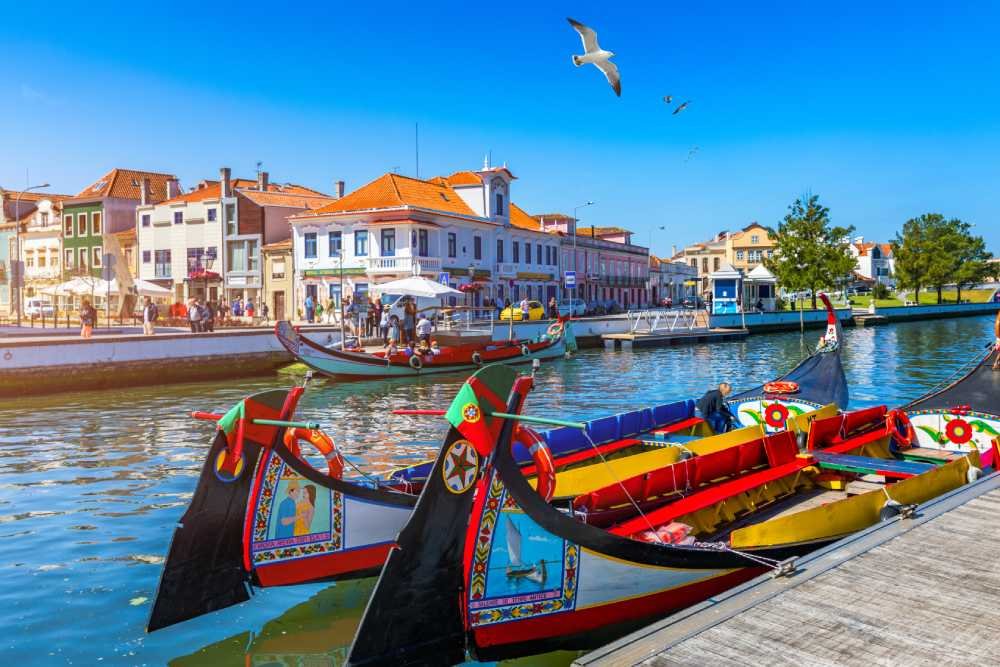 Aveiro is known as the Venice of Portugal and a "Moliceiro" (gondola) trip is a must when visiting the city. The boats were once used for harvesting seaweed (moliço) and transporting items from the salt ponds, but now they mainly transport tourists. As with most things in Aveiro the boats are bright, colourful and usually decorated with paintings that make fun of everyday situations. There are numerous companies offering trips for around 13 euros per person.

This is the most popular activity on our list of Things To Do In Aveiro.
Number 3 on our list of 6 things to do in Aveiro is biking. Aveiro is flat as a pancake which is unusual, as most cities in Portugal are situated on numerous hills. Take advantage of the flat landscape and explore the area the ecological way, by bike. Aveiro and the neighbouring boroughs have installed wonderful bike lanes making it easy to explore around 393 cycle routes. You can even borrow a BUGA, a Free To Use Bike in Aveiro.
Even the birds are colourful in Aveiro. As you already know Aveiro was famous for salt pans, not only did these attract humans but they also attracted hundreds of bird species including the pink flamingo. Autumn mornings and late afternoons are ideal for watching migratory birds, especially the flamingos. Ria de Aveiro is full of the wonderful colourful birds.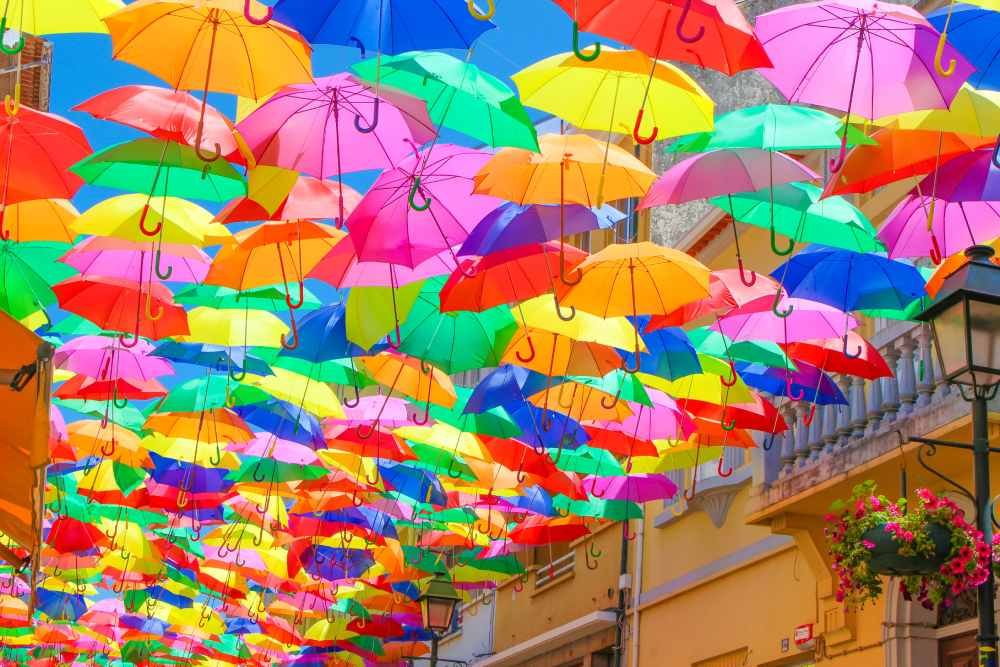 Águeda is known as the city of umbrellas. The Umbrella Sky Project originated in 2012 and is an living installation art show. During the summer months Rua Luís de Camões is covered in a sky of umbrellas. The beautiful and colourful umbrellas bring shade during the summer months and also create a unique, stunning and viral images. The idea is culturally inclusive, inspiring human connection through the universal power of colour! The simple creative idea has now spread to multiple other cities throughout the world but it was done in the Aveiro district first!

Ovos Moles De Aveiro are a local sweet and delicacy made of egg yolks and sugar. The history of the sweet comes from nuns who lived at various convents around the area. According to legend the nuns used egg whites to clean their habits, leaving them with a surplus of egg yokes, which they used to make the pastries in order not to waste them. They then sold them to the locals to raise money for their religious communities. You too can try the delicious sweets, there are numerous shops and cafes around Aveiro selling the delicacy.

If you are looking for a lovely way to spend the after in Aveiro but do not want to travel all the way to the beach. They why not visit the city beach.

The city beach is a hop, skip and jump from the centre of Aveiro. The area has beach beds, cafe on site and the water is a hot 25 degrees!. The best bit is that they also have a hot tub.

The Salt Pans of Aveiro, also known as Salinas de Aveiro, are located in the city of Aveiro, Portugal. Aveiro is a coastal city known for its picturesque canals, colorful Moliceiro boats, and its connection to the Atlantic Ocean. The salt pans are an important part of the region's history and culture.

Salt production in Aveiro dates back to ancient times and has been a significant economic activity for the area. The traditional salt production methods involve using shallow artificial ponds to evaporate seawater, leaving behind the salt crystals. The process is carried out by skilled workers who carefully manage the salt pans. This is a traditional thing to do in Aveiro.

Aveiro offers a pleasant shopping experience with various options for visitors and residents alike. The city features a mix of modern shopping centers, traditional markets, and charming local shops. Here are some places you can explore for shopping in Aveiro:

Forum Aveiro: This is one of the main shopping centers in Aveiro, located in the heart of the city. It houses a variety of stores, including fashion boutiques, electronics, cosmetics, and restaurants, making it a popular destination for shoppers.
Mercado Manuel Firmino: For a taste of local culture and fresh produce, visit this traditional market. It offers a selection of fruits, vegetables, meats, seafood, and regional products. It's a fantastic place to immerse yourself in the local culinary scene.
Glicínias Plaza: Another shopping center located in the city, Glicínias Plaza features a wide range of shops, a food court, and a cinema. It's a convenient spot to shop, dine, and catch a movie.
Aveiro's Fish Market: For those interested in seafood and fish, the fish market is a must-visit. It operates early in the morning, and you can witness the bustling activity as fishermen bring in their fresh catches.
Lastly on our list of Things To Do In Aveiro is Make A Wish.
As you walk through Aveiro you cannot miss the colorful ribbons tied to the bridges in Aveiro. This form of artistic expression that has gained much more popularity in recent year.

The people tie ribbons to the bridges as a symbol of love, remembrance, or to make a wish. It's your way to leave a personal mark or express your feelings in a public space.

Thanks for reading 6 Things To Do In Aveiro.
What is your favourite colourful activity in Aveiro?
Book your Aveiro Activities with
 Activities in Portugal
. 
Watch Things To Do In Aveiro Below